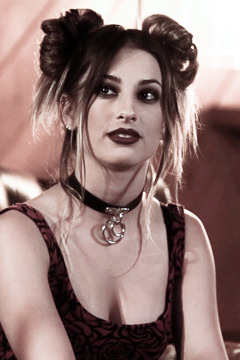 Kristen Scott
Kristen Scott
Updated : 2017-03-17

|

Times Viewed : 601022

|

4
Height : 5'6"
Hair Color : Brown
Eye Color : Brown
age : 22
measurement : 32A-23-32
waist : 23
Kristen Scott's Biography :
The electric Kristen Scott was born in San Diego, California on March 13, 1995. She has been an adult performer since 2016. She first started in the business doing lingerie shoots at 18-19 years old. From there she started camming for money, "I got off on the thought that I was making all these men at home hard, and all the ladies at home wet."
Within a few months, her living situation no longer allowed her the freedom to cam. "I decided to ask a friend who was shooting porn how to get started. She gave me the number to her agent and the rest is history!"
Her parents are aware of her career, "They don't like that I do porn but they respect my choice. They can see that I have become much happier and healthier since I started in this industry. Neither of them are religious but my mother is quite spiritual, and so am I! My parents divorced when I was eight and everyone has been much happier since." Scott lost her virginity "to my boyfriend of two years on the couch in my living room with my mom downstairs!"
Her three wildest sexual encounters include sex on top of a water tower "with a super prude, religious guy that was way older than me. He was so fucking hot and I loved the idea of corrupting him! Next would be when an old fling pulled up my skirt in public and rubbed my pussy. A man decided to sit and watch our fun while he got me off. We didn't mind. Also, a good friend of mine and I had a double date. After dark, we walked on the beach and fucked our dates against the cliffs before some locals called the cops and had us leave. It was fun while it lasted!"
If trapped on a deserted island, three items Scott would you want are a water filter, flint, and a solar powered iPod. "I'd obviously use the water filter to stay hydrated, the flint to light fires, and the iPod to keep me entertained!"
In order of importance, her three favorite books of all time are Remember, Be Here Now, "it keeps me grounded and humble, and reminds me to live in the now and to appreciate all of life's lessons." The Power of Now by Eckhart Tolle, "because it contains many valuable lessons in how to appreciate every single moment in your life. It helped me find myself." And, Milk and Honey by Rupi Kaur, "I can relate to just about every single poem Rupi has written. This book shows such a beautiful vulnerability that I hope I can apply to my life one day."
Scott is not a fan of the horror movie genre. "Truth be told I am a scaredy-cat. If I have someone to hold me throughout the film and then through the night, I can watch them! When I'm alone, my imagination takes me to dark places."
When Scott isn't filming, her main preoccupations are taking care of her body, mind, and soul, spending time with loved ones and making memories, and travel when time permits, "I love to take road trips or fly to new places."
Scott has never been arrested.