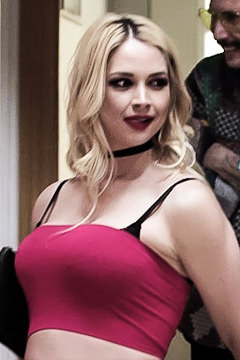 Sarah Vandella
Sarah Vandella
Updated : 2016-11-08

|

Times Viewed : 341303

|

2
Height : 5'4"
Hair Color : Blonde
Eye Color : Brown
age : 35
hobbies : Yoga, hiking, weight lifting, travel
Sarah Vandella's Biography :
Sarah Vandella was born in Long Island, NY. Growing up in this average suburban town, Sarah was a shy with terribly low self-esteem. She was determined to break out of that shyness, and as we all know, she eventually did, in a BIG way. But Sarah had to start somewhere. Always hoping to work in the adult industry, Sarah worked her way up, beginning by working in adult shops and dabbled in dancing until she felt comfortable taking the next step. She then researched agents and porn in general. It was a long process for Sarah before she eventually felt she was ready to do video work. From there, though, she was off and running and there was no stopping her! Her career took off, and she would go on to win the Throated Award in 2016. When she's not winning awards and breaking taboos, Sarah focuses on family and loves to hike and travel. She's also an amateur yogi, counting yoga among her many passions. Namaste, indeed. Despite admitting that they scare her, Sarah still indulges in a horror movie every now and then and loves movies in general. She has way too many favorites to list here, but one of those picks is definitely The Deer Hunter. Sarah has high hopes for Pure Taboo and feels that it will help people feel less secretive about their sexual wants and realize that taboo is nothing to be ashamed of. We couldn't have said it better ourselves, Sarah.